The Masters is upon us. For golfers this is the Superbowl of the year.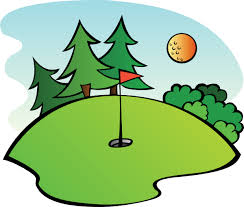 The abiding principle in golf appears to be THOU SHALT NOT CHEAT. Cheating is anathema to the sport. Amateur and professional players alike take great pride in knowing and following the strict rules of golf.
More than five years ago, Lance Armstrong, the most well-known and revered cyclist was stripped of his seven Tour de France victories, and his Olympic bronze medal from the 2000 Olympics and has received a lifetime ban-for cheating. He has been accused of doping.  He joins his contemporaries Floyd Landis, Jan Ullrich and Alberto Contador.  Between 1996 and 2010 every winner of the Tour de France was branded with the brush of doping. Although Lance has not confessed to the accusations, he has chosen not to fight. 
There are a dozen witnesses including 10 former teammates who have charged Armstrong with doping. The USADA (The United States Anti-Doping Agency) has samples from 2009 2010 that indicate he used EPO (blood enhancing) Cycling seems to be tainted with drug doping. Jonathan Vaughters, a former cyclist and admitted doper said "(When) the dream is 98% complete.. . you are told, either straight out or implicitly, by some coaches, mentors, even the boss, that you aren't going to make it unless you cheat. Unless you choose to dope. Doping can be that last 2%." Cheating seems to be endemic in cycling, condoned by the coaches and the athletes by their silence. Cheating is not exclusive to cycling. It has found a home in many other sports.
Sport became so riddled with cheaters that in 1967 the International Olympic Committee created the Medical Commission to address the issue. Since then the IOC has spent millions of dollars devising ways to uncover doping.   In the 2010 Vancouver 30 athletes failed drug doping tests, and at the 2008 Beijing Olympic Games there were 70 athletes.  The difference between gold and silver can be 100th of a second. The eye has been on the prize, no matter how it was obtained.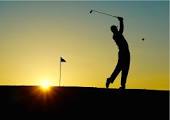 Except for golf.  The abiding principle in golf appears to be THOU SHALT NOT CHEAT.  Cheating is anathema to the sport. Amateur and professional players alike take great pride in knowing and following the strict rules of golf.  Golf is the one game where the competitors are also the judges. From tee to green, they referee themselves. They are expected to follow all the rules and if they break one of them they must call the penalty on themselves. It is expected. It is part of their moral fibre.  It is the ultimate honor system. Cheating breeds dishonor.
Amateur Bobby Jones (1902 1971) taught the ethic by living the ethic. He is described as a man of vast intelligence and profound character, The USGA's award for distinguished sportsmanship is the Bob Jones Award. "What Jones did was create a model that everyone, consciously or unconsciously, followed. It is why we have so many fine people in golf. He showed the world how to do it." This was said by William Campbell who was also an amateur golfer, served as U.S. Golf Association president in 1982-1983, was the third American nominated to be captain of the Royal and Ancient Golf Club of St. Andrews, Scotland, and also said about golf, "It is an honorable game, an honorable institution, if you will, so that people shouldn't need policemen to keep them straight. That goes with being a golfer."
The ethics of these two men exemplify the code of ethics that embraces all involved in the sport beginning with the golf instructors who are expected to honor and respect at all times those who have placed their trust in them and their professional ability. As coaches and mentors to young people, they have the responsibility to set an example of professionalism for them to follow. The game of golf is a never-ending pursuit of perfection. There is always room for improvement. Like life.

Millions of children are being taught these morals, values and ethics by the international youth development organization, The First Tee, which was established to teach the game of golf to young people  to help them to build character and learn life lessons from a game that demands honesty, integrity and personal responsibility for all decisions. There are more than 600 chapters. They are teaching young people to make healthy choices, for the mind, body and soul.  One is taught that winning is great, but the way one wins and how one loses are just as important.
Walter J Travis and Jason Rogers wrote in The American Golfer that "All of a man's best and worst traits are luminously brought forth and exposed to view in all their nakedness. It is one thing to be a good winner. . . easy, very, very easy for most; but to be a good loser is quite a different affair. To be a generous loser, to freely own up that defeat has been brought about by the better play of one's opponent rather than to luck or accidents of play, or failure to rise to the occasion on the part of the worsted, means the possession of almost divine qualities."
.
The First Tee established Nine Core Values for playing golf: Honesty – the quality or state of being truthful; not 2. Integrity -strict adherence to a standard of value or conduct. Personal honesty and independence. 3. Sportsmanship- 4. Respect- to feel or show deferential regard for; esteem. 5. Confidence- reliance or trust. A feeling of self-assurance 6. Responsibility- accounting for one's actions; dependable. 7. Perseverance – to persist in an idea, purpose or task despite obstacles. 8. Courtesy – considerate behavior toward others. A polite remark or gesture. 9. Judgment – the ability to make a decision or form an opinion. A decision reached after consideration.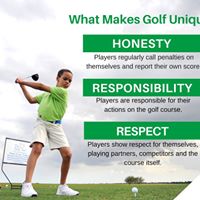 Former President George W. Bush who was named The First Tee's Honorary Chair spoke about his role: "I love the idea of being involved with an organization that believes with certainty that there are core values that make a difference in our country's development and in a person's life."
Perhaps it is time for us as a society to implement the lessons of golf in all of our institutions.