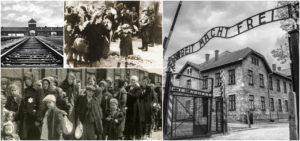 "In 2018, a study by the Institute for Jewish Policy Research and the Community Security Trust revealed that anti-Jewish and anti-Israel attitudes were two to four times higher among Muslims than the population in general…Certainly, there's a growing threat from white supremacists. But this is vastly exceeded by the threat from the Islamic world."
Here, in Canada,the Toronto Star and BuzzFeed tried to have Never Again Canada, removed from Facebook: for hate.
Never Again Canada is a Facebook page that exposes antisemitism, including antisemitism  from the left. From the Islamic world. Its home page consists of photos of atrocities committed against the Jews and its logo is the entwining of the Canadian flag with the Israeli flag. The  administrators  live in Canada, Israel, the United States, Pakistan, the Philippines, and Spain.
On April 12 the Toronto Star, working with BuzzFeed, shared this article.
"How A Facebook Page Dedicated To Fighting Anti-Semitism Became A Hub For Anti-Muslim Content"
It was written by: Jane Lytvynenko;BuzzFeed News Reporter: Alex Boutilier; Toronto Star Reporter: Craig Silverman; BuzzFeed News Reporter: Marco Chown Oved; Toronto Star Reporter. Click the link to see the posts that these two media outlets have labeled anti-Muslim.
This is the crime that Never Again Canada committed according to these journalists.
"A popular Canadian political Facebook page that promotes the far-right Jewish Defence League uses a deceptive technique that evades Facebook's content bans and drives traffic to anti-Muslim websites.

"Never Again Canada, which has nearly 235,000 followers, posts dozens of images, videos, and articles every day. The page says it is a platform to combat anti-Semitism, though its posts also stray into unrelated Canadian political topics, like the carbon tax."

"Between the Facebook page and Never Again Canada's Twitter feed, the group has a large platform to push out political messaging — and amplifies that message through synchronized posting with dozens of other anti-Muslim Facebook pages."
Note how they lumped Never Again Canada (NAC), a Facebook page that fights antisemitism from right and left, with "other anti-Muslim Facebook pages" as if NAC were an anti-Muslim page or Islamophobic, or Jew-hatred was not endemic in Islam.
They are concerned that:
"Link redirection is a common technique used to share domains on Facebook that would otherwise be blocked by the platform. There are online tutorials that describe how to use a blog post to redirect to an otherwise blocked domain."
Avi Shomer, Never Again Canada's founder, said he is not aware of any effort to coordinate with other Facebook pages.
"I don't know those sites. What I do know is that an administrator can post a series of articles on the Facebook page and then post the same articles elsewhere as well … [but] I don't think the other administrators have any knowledge about who is exactly posting what and where either,"
Now, I am so far from being a techie that I am not sure I understand what I just wrote. But, once again, it seems to me that media outlets like the Toronto Star and BuzzFeed are going after the messenger and not the message. Look at the posts that BuzzFeed and the Toronto Star are attacking. This is anti-Muslim hate? Right wing racism? These are articles that defend Israel and the Jewish people. Is Nikki Haley a right wing racist?
It appears to me their concern is that there are posts about Jew-hatred from the Left; from Islam. And they want to shut down voices from the right; voices that expose this hate. They want to prevent posts that depict hateful comments and events from Islam from being shared so they attacked the messenger while ignoring the message.  Bernie Farber, in his role as director of CAHN, did this as well when he reported on Pegida Canada.
I looked at the posts the journalists shared in this article. One is about America cutting financial ties with organizations like UNRWA and UNESCO with a photo of UN Ambassador Nikki Haley smiling. One was about Al Quds day – a day that is filled with hate for Jews and Israel that is promoted by Muslims; particularly the leadership of Iran.
Then on May 9 they posted another article about Never Again Canada, also written by Jane Lytvynenko; BuzzFeed News Reporter: Alex Boutilier; Toronto Star Reporter: Craig Silverman; BuzzFeed News Reporter: Marco Chown Oved;Toronto Star Reporter.
They refer to Never Again Canada, again:
"A Facebook page that promotes false, far-right, and anti-Muslim content using deceptive techniques had been allowed to continue operating for nearly a month while the social media platform investigated its activities. Now Facebook says the page doesn't violate its community standards, showing how close to the line purveyors of false or misleading information can play in Canada's upcoming federal election."
They also claim  "In the weeks since BuzzFeed News and the Star published the investigation, the page has shared conspiracies and anti-Muslim narratives surrounding the Notre Dame fire, promoted petitions and events by the JDL, and continued to post misleading political content as the Canadian election nears."
And "the page also published, and later removed, a false video purporting to show militants in Gaza firing rockets at Israel. The video was actually made in Belarus in 2014."
Yes, that is true. Never Again Canada posted the wrong image; not that there aren't a plethora of videos of rockets being sent from Gaza targeting civilians in Israel; and when contacted, fixed it. But the Toronto Star does not do that. I wrote a series of articles about the Toronto Star and Imam Elkasrawy-not once did they remove incorrect statements or post facts that had been "left out."
Here are more "offensive" posts they shared from Never Again Canada from April 15. Click the link to see them. You will note that this page is filled with posts about attacks on Jews from the left. From Islam. From Muslims.
There is a post about the Notre Dame fire with comments from Muslims using happy face emojis.
And:
"Islamists and the far left are planning on disrupting the annual Walk with Israel event on May 20th and will also be holding another pro-Hamas rally the Saturday prior.The left will constantly claim they are against injustice and hatred while in reality, the enable and embolden Islamic hatred along with intolerance from their political allies."
"Anti Israel gangs are planning to disrupt the Annual Walk with Israel event within the Jewish Community of Toronto."
"BREAKING: Muslim terrorists attempted to murder Jews by throwing rocks at a bus near the Damascus Gate in the Old City of Jerusalem. Heavy damage was caused to the bus' windshield. Miraculously, no one was hurt."
And this post from FightIslamophobia.ca· which speaks to all Canadian values.
"Islamic call to prayer in a church – The sound of diversity and inclusion. "Compassion, acceptance, and trust; diversity and inclusion—these are the things that have made Canada strong and free. Not just in principle, but in practice" – Justin Trudeau"
They shared an April 25 page from NAC that contained a  suggestion that the Notre Dame fire was an attack; not an accident. Ahhh conspiracy!
Statements by jihadist Muslims such as "Notre Dame is not the Last" were not reported by the Toronto Star and Buzzfeed (Google search returned no results).
Both also ignored a comment made by a former Québec solidaire Muslim candidate, Eve Torres,who linked the fire at Notre-Dame in Paris to Bill 21 that was introduced by the Legault government regarding religious symbols worn by public sector employees. "[…] When you prevent others from wearing religious symbols, you anger our 'Imaginary Friend,' and you can see the result," she wrote on social networks. Torres later issued an apology that again was not reported by the self-proclaimed "progressive" Toronto Star and BuzzFeed (Google search returned no results).
The website Canadadocs.org "The Documentation Project" exposes anti-Jew and anti-Israel hatred in Canada. The Jerusalem Center for Public Affairs and the American Center for Democracy have also documented antisemitic hate speech shared by Canadians. Here are just a few examples: "Islamic Relief Canada's senior official: "The Jews are the enemy of Islam"; "Why Canadian Imams Recite Prayers against the "Filth of the Jews"; "Canadian Islamic Sermons, Literature on Killing Jews and Enemies of Islam"; Aliya Hasan: "Jews are forbidden from gathering and forming their own state." Again none were reported by the "progressive" Toronto Star and BuzzFeed.
In their zealousness to take down Never Again Canada, the Toronto Star and BuzzFeed employed #FakeNews; the sin of the omission of facts to promote an agenda. Are they not guilty of "using deceptive techniques," the same accusation they heaped on Never Again Canada? Grounds for being banned from Facebook.
And more:
"Israel has a right to exist whether the Arab world, the United Nations and the media like it or not.
Here are some more "offensive" posts from May 6
~A request from Meir Weinstein to John Tory, the mayor of Toronto to do something about planned disruption against the Jews on the Annual Walk with Israel day;
(The two media outlets have attacked the JDL in Canada . They imply that it is a terrorist organization because the JDL was declared one on the USA. But not in Canada.They are two different entities. I have yet to see articles about terror attacks committed by the JDL in Canada. Perhaps the Toronto Star and BuzzFeed could provide them).
~A post by Aliya Hasan is a Co-Manager of Canadian Defenders For Human Rights (CD4HR), a pro-Palestinian Canadian registered with the Canada Revenue Agency as non for profit organization (NO.1067715-9) who shared an offensive cartoon about the Jews that Never Again Canada exposed.
~ A  post about Iranian women risking their lives and dancing in the street in demand for freedom. Iran is a country where seeing public executions & lashings is normal while dancing is forbidden.
~A post that  EXPOSED: Labour Party leader, Jeremy Corbyn, expressing sympathy with Hamas suicide bombers during a speech in 2009.
I think you get the picture.
Posts about attacks on Jews.
The reporters also wrote about  the "potential of foreign interference in the upcoming election."  Are they suggesting that NAC should be removed for that reason? How is Never Again Canada interfering in the election?
Minister of Democratic Institutions Karina Gould has said that the government is considering regulating social media giants, saying "all options are on the table."
In a statement, Amy Butcher, a spokesperson for Gould, said "We don't tolerate hateful speech in print, on TV or on radio, and we shouldn't tolerate it online either."
I agree. Go after BuzzFeed and the Toronto Star for their hateful attack on Never Again Canada which exposes Jew hatred; no matter its source.
From the Ethics of the Fathers: "Rabbi Tarfon used to say, it is not incumbent upon you to complete the task, but you are not exempt from undertaking it."