"There are none so blind as those who will not see. The most deluded people are those who choose to ignore what they already know."
photo-daily mail
This past summer, July 8 and 9, Britain held an Expo  in the Queen Elizabeth II Centre, Westminster, London promoting Palestine. It was billed as "the biggest social, cultural and entertainment event on Palestine to ever take place in Europe. In a year of immense significance for Palestine." The year, 2017, is the 100th anniversary of the Balfour Declaration and the Palestinians have made an official request to the British government to apologize for the declaration and recognize the State of Palestine based on 1967 borders.
There was one small hitch: when Jews showed up at this event taking place in a public building and apparently open to the public, Jews were removed…for being Jewish. Not for misbehaving; for just being.
On July 25, Jason Silver, a proud Brit, contacted the Secretary of State, Right Hon Sajid Javid, regarding the treatment of Jews at this public event. Although Javid could not comment on the investigation by the police, he did acknowledge that antisemitism continues to be a problem in the county. Jason Silver reached out to Javid, again, August 23 and was assured that the organizers of the PalExpo 2017 at the QEII Convention Centre had been informed that the Expo must be conducted in a lawful manner and in line with fundamental values (Do they know Britain's fundamental values?).
As a matter of fact,  July 26, 2017  Sajid Javid had already described the rise in antisemitism in an article in the Independent as "completely unacceptable" and said the Government would work to ensure offenders were subject to the full force of the law.
 "Everyone in this country has a right to live without fear of abuse or attack and we must as a nation firmly condemn this hatred and all other forms of bigotry."
Except antisemitism is on the rise in Britain.
Jewish groups are providing protection.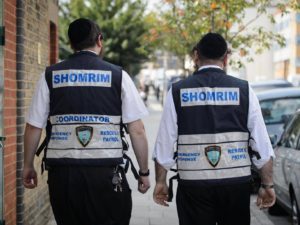 "A record number of anti-Semitic incidents have been recorded in the UK as monitors warn of "unprecedented" reports of attacks, abuse and harassment.
The Community Security Trust (CST), a charity that collects hate crime data and helps protect synagogues and Jewish schools,recorded 80 violent assaults targeting Jews in the first six months of this year, as well as verbal abuse, graffiti, vandalism, hate mail and abuse via social media and the internet.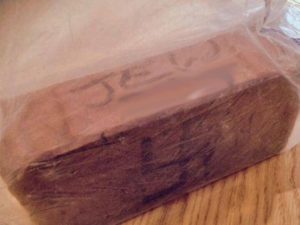 A total of 767 incidents were reported between January and June – a rise of almost a third on the same period in 2016 and the highest since the CST's records began in 1984."
Judith Bergman wrote in Gatestone that the  the Crown Prosecution Service litigated 14,480 hate crimes, yet, according to the Campaign Against Antisemitism:
"We have yet to see a single year in which more than a couple of dozen anti-Semitic hate crimes were prosecuted. So far in 2017, we are aware of… 21 prosecutions, in 2016 there were 20, and in 2015 there were just 12. So serious are the failures by the CPS to take action that we have had to privately prosecute alleged anti-Semites ourselves and challenge the CPS through judicial review, the first of which we won in March. Last year only 1.9% of hate crime against Jews was prosecuted, signaling to police forces that their effort in investigating hate crimes against Jews might be wasted, and sending the strong message to anti-Semites that they need not fear the law… Each year since 2014 has been a record-breaking year for anti-Semitic crime: between 2014 and 2016, anti-Semitic crime surged by 45%" .
October 2017, the Institute for Jewish Policy Research and the Community Security Trust published the largest ever survey of British attitudes towards Jews and Israel. The survey found that the more anti-Israel attitudes a person holds, the more likely they are to also hold anti-Semitic attitudes.
There was no dearth of anti-Israel information at PalExpo. According to Mr. Silver there were calls for the destruction of the state of Israel and links made between Jews and Israel committing genocide. He shared with the authorities that in one 7 minute speech alone the term ethnic cleansing /genocide was mentioned 7 times and the term Jew was mentioned 11 times. Remember, this in an Expo  billed as "the biggest social, cultural and entertainment event on Palestine to ever take place in Europe."
In  2016 Philip Johnston had reported in the Telegraph that  according to The Community Security Trust,"anti-Semitism is now the default position among Muslim youth in Britain" and prevailing Muslim attitudes towards Jews – that they were responsible for wars and controlled influential networks – perpetuated a climate in which "British Muslims may harbour a negative and aggressive attitude towards their Jewish countrymen."
He added "Much Muslim antipathy towards Jews stems from a well-established cultural dislike that is exacerbated by the unresolved Palestinian question. Ostensible criticism of the Israeli government morphs into anti-Zionism and, by extension, into anti-Semitism masquerading as legitimate political comment."
While all this is going on, Amber Rudd, the British Home Secretary, said the  Government was providing £13.4m to protect Jewish sites and making another £900,000 available for schemes to tackle hate crime. She said that the Government's hate crime action plan had improved the authorities' response and was encouraging more victims to report incidents directly to police.
"Anti-Semitism has no place in this country, which prides itself on openness, diversity and tolerance…I am clear that one such incident is one too many and we will continue to do everything we can to stamp out the hatred and division that blights our communities."
In 1546 English author John Heywood wrote:
"There are none so blind as those who will not see. The most deluded people are those who choose to ignore what they already know."
British leaders do know. None of this is new. Britain has a thousand year history of Jew hatred and now we hear that Prince Charles blamed the Jews for the problems in Israel "…it is the influx of foreign, European Jews (especially from Poland, they say) which has helped to cause great problems."
Despite all the lovely rhetoric the British authorities seem to be reticent when it comes to calling out Jew hatred. Is it fear of Islamophobia backlash? Except that Britain is supposed to be a democracy with its constitution firmly rooted in the Judeo/Christian ethic-not Sharia Law.
It's November. Mr. Silver has only just had a response regarding Police Officer Georg who assisted in breaching Mr. Silver's human rights by not protecting him from being removed from a public place. He is only now being investigated 4 months after the event. After all they have said about the blight of antisemitism, nothing has been done about the Jew hatred at the PalExpo and the blatant discrimination against Jewish citizens of Great Britain.
Jason Silver wrote in one of his missives to the powers that be;
"Is this calling for the destruction of the state of Israel illegal? Or is it just immoral."
We are in the time of Remembrance. Kristallnacht and Remembrance Day. We are also remembering the beginning of open season on state-sponsored Jew killing, the brave men and women who died fighting for our collective freedom in WWII, and the suffering of all those British people holding the fort back home.
And now as we officially remember, the British have forgotten what happens when a fascist worldview is allowed entry. It brings with it fear-of the fascist. And it seems Britain has caved. Refusing to bring immediate charges against people who demand the removal of guests for the crime of being Jewish.
Jason Silver wrote: "Being asked to leave because I put on a sign of my Jewish faith, a Yarmulke. How disgusting this open antisemitism and religious discrimination is at a public conference center open to all and billed as an event for all and for families. I guess that means everyone except Jews that is !!!
Rabbi Tarfon said, "It is not incumbent upon you to complete the task, but you are not exempt from undertaking it."