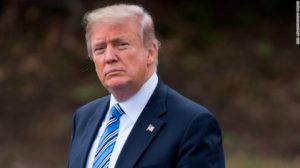 If Trump had been President of the USA on October 7, 2023, there would never have been the October 7 Massacre of 1200 Jews in Israel, and the taking of more than 220 hostages: Israelis and from many other countries. And there would be no talk today about a possible Middle East war or God forbid WWIII. Then again, the elites across America love war. Trump didn't.
The blood of the Jews is on the hands of Joe Biden and the Jew-hating Democrat Party.
If Trump had been President, Iran would have been a mere shell of itself. A country living in poverty where the women freedom fighters would have encouraged the men to fight back and get rid of the evil Khamenei. Iran would have been poor because Trump placed sanctions on her and stopped the sale of oil; the source of billions of dollars in income; particularly to China. China is principally responsible for keeping the Iranian regime in business through oil purchases that have totaled more than $80 billion since President Biden assumed office in January 2021 to September 2023. Iran exported nearly 1.4 million barrels of oil per day in October, sustaining its average for 2023. This is up 80% from the 775,000 barrels per day Iran averaged under the Trump Administration's "maximum pressure" strategy, according to United Against Nuclear Iran, the group of former U.S. Ambassador Mark Wallace and Sen. Joe Lieberman, whose Tanker Tracker generates the best public data we have.
Iran would have been on her knees with Trump as President. There would never have been money to buy armaments for Hamas or Hezbollah, the Houthis in Yemen and Palestinian Islamic Jihad. And now the Biden administration is considering a sanctions waiver on Iran that would free up 10 billion dollars.
"Why should Iran have any access to more than $10 billion after sponsoring one of the worst terrorist attacks against American citizens and the worst massacre of Jews since the Holocaust? It would make more sense to freeze all of these accounts and keep every penny out of Tehran's hands."
Makes me wonder what Obama has on Biden.
Let's remember, Trump, a man who had tens of thousands of people come to his rallies, lost to a man who ran his campaign from the basement. And Biden took over –bringing back the policies of Barack Hussein Obama, the first black and Muslim President in America's history and the most Jew-hating President in America's history. Considering that FDR refused to take in Jewish refugees during the Holocaust, that's big. Barack decided to feed Iran with billions of dollars to encourage her not to become a nuclear power. What a joke. As if Iran would follow the rules. In Islam Taquiya is at place: Always lie in the name of Allah to promote Islam.
The blood of the Jews, the decapitated people, the babies burned alive, the women raped to the point their pelvic bones were broken is also on the hands of the CIA, FBI, DOJ, Facebook and the old Twitter, the Democrat party, Hillary Clinton-who lied about Trump with her Russian hoax, and now compares Trump to Hitler! and all those people who hid Hunter Biden's computer and tried to lie about it. James Clapper — a man who was nearly charged for perjury for lying to Congress — was one of 51 "intelligence officers who signed a letter saying that the Hunter Biden laptop "has the classic earmarks of a Russian information operation."
They fixed the election by playing with facts.
The blood of 1200+ Jews is on their hands.
And let us not forget the Main Stream Media. Always calling out Israel for evil while hiring or paying for unethical journalists. And report the "news" based on Hamas' reporting; as if Hamas wouldn't lie(Taquiya)
And now we discover that "Four hundred government officials from 40 departments and agencies within President Biden's administration signed a letter opposing the president's handling of the Israel-Hamas war and demanding a cease-fire." There will be more blood on Biden's hands if he acquiesces. Trump would never have condoned this.
While Israel is accused of war crimes during the  Swords of Iron response to the bestial attack by Muslims, not a peep about Muslims murdering Muslims in Syria with no screaming for a cease fire,  or the Khamenei killing women for not covering their hair,  Do you think this would have happened under Trump? Or the Muslims murdering Christians in Africa? An estimated 5,621 Christians worldwide were killed for their faith last year. Of those, 90% were Nigerian Christians. Western media        (protecting Muslims) commonly frames the violence in Nigeria as a "herder-farmer" conflict "propelled by climate change and resource scarcity," despite U.S. government reports that "one of ISIS's largest and most powerful regional branches … controls broad swaths of territory and has killed or displaced thousands of people in Nigeria and neighboring countries." In its first full day in office, the Biden administration canceled a modest grant to help persecuted Christians in Nigeria document atrocities against them. Hmmm.
Oh no.  It's the Jews who must be "crucified" unless they are being attacked and losing.
And that hate for Israel came across within days of the butchery by Muslims when MSM started blaming Israel for a genocide of Muslims in Gaza. When they called for a ceasefire; without the return of the hostages. That Israel was committing war crimes – but never word about the 30,000 bombs Gaza had showered on Israel; not just Israel, but on civilian targets – the homes of Jews since 2006. Those weren't war crimes: those were attempts to remove the "occupation." And MSM supported that idea. Occupation of the poor Muslims by Israel when not one Jew lived in Gaza , no soldiers were there and Hamas was in charge from 2006. But MSM can't side with the Jews. Not today. After all in a world of CRT and DIE, the Jews are at the bottom of the list.
Watch this video:Mark Levin and Ron Dermer Former Israeli Ambassador to America
And, today, Iran calls for the eradication of Israel.
Iranian President Ebrahim Raisi called for the creation of a Palestinian state "from the river to the sea," a genocidal rallying cry necessitating the destruction of Israel.
Raisi also called for the West to sanction and boycott the Jewish state, for charges to be leveled against Israel and the United States at the International Criminal Court and for inspections of the Jewish state's nuclear facilities.
At first it appeared that Saudi Arabia seemed to be turning against Israel when a "détente" seemed imminent before the war. We could blame that on the Jew-hating Biden Democrats as well.
Raisi  met with Saudi Crown Prince Mohammed bin Salman, who said his kingdom "holds the occupation [Israeli] authorities responsible for the crimes committed against the Palestinian people."
Most of the states present at an Arab League and Organization of Islamic Cooperation (OIC) emergency summit in Riyadh focusing on the Israel-Hamas war in Gaza sought to impose five measures against the Jewish state.
In the end, Saudi Arabia helped to block a bid by Arab and Muslim countries to militarily and economically isolate Israel, according to Israeli media reports.
Because the Saudis know that the greatest threat to the Middle East is Iran.
Late last month, Israel Defense Forces Spokesman Rear Adm. Daniel Hagari said that Iran assisted Hamas in the invasion by supplying it with funding, intelligence, weapons and technological knowledge.
"As many as 500 terrorists affiliated with Hamas and Palestinian Islamic Jihad trained in the Islamic Republic leading up to Oct. 7, The Wall Street Journal reported. Iranian-sponsored exercises took place in September, at which time terrorists received specialized combat training."
Biden policies led to the massacre and now are promoting hateful attacks on Jews across America; coming predominantly from Muslims who support the Hamas massacre.
If Trump had been President October 7, 2023
I will end the mass importation of antisemitism into the US
From the Ethics of the Fathers: "Rabbi Tarfon used to say, it is not incumbent upon you to complete the task, but you are not exempt from undertaking it."