I returned from Ottawa's Canada 150 filled with admiration for our military men and women. I met wonderful young people, members of the Army, Navy and Intelligence and our fabulous Snowbirds, who have chosen to protect our country and our hard won values from those who not only wish to take away our way of life but declare loud and proud: "Death to the West"!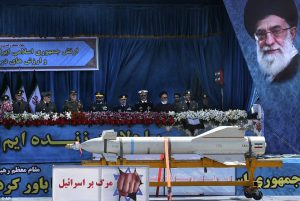 (A missile with an anti-Israeli banner, which reads in Persian, 'Death to Israel,' is displayed, as Iranian armed forces commanders review an army parade next to a portrait of Supreme Leader Ayatollah Ali Khamenei on National Army Day, in front of mausoleum of the late revolutionary founder Ayatollah Khomeini, just outside Tehran, Iran)
There is something special in these young people. Something I feel that is absent in so many of us; gratitude for being part of a minority blessed to live in freedom. Talking to them reminded me of a young woman I met about  six months ago who decided that she, too, wanted to stand up for Canada in our military. And I want to share that story with you because she reminds me of all the men and women in all of our freedom loving countries who choose the military.
This young woman changed her career path from the sciences to the military-because of her trip to Israel.Perhaps it was meant to be, for her parents gave her a very beautiful Jewish name. I met her at an Israeli advocacy gathering.
She was raised in a loving  family of five children. Her parents instilled the principles of Christianity into their home and taught the children what to value in life. Her parents fostered more than 200 children over 25 years, yet, she remembers growing up in a home with Jewish symbols: the Star of David, kippa, Menorah, Shabbat Candles. All this in a small town of 4000 in a remote area in beautiful British Columbia. Another way of describing it is "isolated." After high school she went off to university, changing her major from bachelor degree in Science, with a major in Biology, to a bachelor of Kinesiology.
Over the years she worked as community support worker for a female with Down's Syndrome and as a Support Worker for individuals with special needs. It was the summer before her final year of University that  she became more curious about Israel, partly because of her father's interest.
Her grandfather, on her father's side was anti-Semitic. He was also a racist. Her father told her that he was raised in a home with racist language that he thought was normal. Of course he would. Yet, her father turned away from those teachings, took a great interest in Israel and his interest piqued hers.
She convinced her father to travel with her to Israel. They chose the Sar-el experience.   She told me,
 "We were sent to Southern Israel to work at recycling ammunition for  three weeks. It was during this time that I began to learn more about Israel and develop friendships with some of the soldiers. On the weekends my dad and I visited Tel Aviv, Haifa and Jerusalem. The more that I learned about Israel the more I fell in love."
It was after that experience in Israel that she decided she wanted to join the Canadian military. Brothers and sisters in arms.
And then came Operation Protective Edge 2014 when Hamas attacked Israel.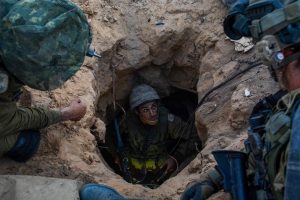 Soldiers prepare to dismantle a Hamas tunnel in the Gaza Strip
She was back home and she told me,  "I felt like my friends were unjustly in harm's way, it made my heart burn with anger and gave me a drive to learn more about the Israeli-Palestinian conflict and terrorism in general." And she did.
We need people like her to defend us; people who know the real meaning of terrorism and terror itself.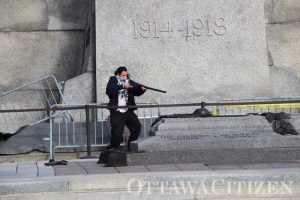 The following January she returned to Israel to study Hebrew at Ulpan at Ben Gurion University in Be'er Sheva. Here she met many people from around the world and built amazing friendships. "The Ulpan program was fantastic, both the academic portion and the field trips. Often on the weekends I would go hiking with some friends." She extended her stay while waiting for her acceptance into the Canadian Military and chose to spend that time volunteering at Aleh Negev-Nahalat Eran as a physiotherapy assistant.
"This care facility was the most incredible thing I had ever seen. It was like a community for individuals with special needs of all ages. This place was their home and it was beautiful. Any person would be proud to live in such a place. I had the pleasure of meeting Doron Almog and we talked about Aleh and about my upcoming career in the Military. The work environment at Aleh was astounding. The love that the workers poured out to the children and each other was incredible. It didn't matter whether someone was Jewish, Muslim, non-religious; everyone cared for one another. I truly cherish the time I spent at Aleh, it was a very enriching experience; a dream really."
Nearing the end of her six months in Israel she received the call she wanted; the Military informed her they were ready to begin training her as a Medic. Five days after arriving back in Canada she had her swearing – in ceremony and ten days after that she began Basic training. She brought with her love of country and service.
Our federal Government keeps telling us they care about the military. And now, with Donald Trump as President of the USA, Chrystia Freeland,  Minister of Foreign Affairs of Canada has indicated a need to change our outlook on the world,  She said just before the July 1 celebration.
"The fact that our friend and ally has come to question the very worth of its mantle of global leadership, puts into sharper focus the need for the rest of us to set our own clear and sovereign course…For Canada that course must be the renewal, indeed the strengthening, of the postwar multilateral order."
Does that renewal include the military? How else can we be full participants in the postwar multilateral order?
Except our Canadian military is undermanned as well deficient in materiel.  According to a March 2015 report tables in the House of Commons, the military is short 1900 regular force members and 5300 part-time reservists. The military requires 4000 new recruits each year to offset attrition.
Defence analyst David Perry of the Canadian Global Affairs Institute said the numbers in the report put the Canadian Armed Forces at their smallest size since at least 2009.
We have remarkable women and men who have found their own unique path to the military to protect all Canadians from harm.
Will our government do more than share platitudes?
More importantly will our Government clearly name our foes and develop a plan to stop the war on our western way of life?