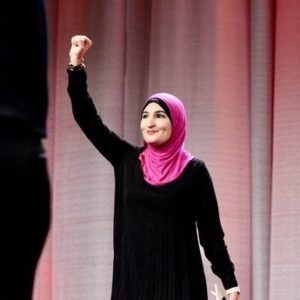 Linda Sarsour, who refers to herself as a Palestinian refugee, has learned her lessons well from history. Divide and Conquer. She is taking advantage of the divide between Jews in the diaspora and Jews in Israel:
"between their allegiance to universal concepts of social justice and Tikkun Olam versus the well-being of the Jewish people as a distinct national group. Although diaspora Jews have shown a remarkable loyalty to social democratic ideals, the people who most strongly vouch for those ideals – i.e., the international Left and the Democratic Party – do not reciprocate the friendship.

"The distrust and dislike between liberal pro-Israel Jewry and progressive-left, Democratic Party, anti-Zionism has been simmering for years.

"While conservative Republicans favoured Israel by a 44-point margin in 2001, the margin is now 70 points (February 2017). And while liberal Democrats favoured Israel by 30 points at the turn of the century, they now favour the Palestinians by 12 points."
Look what is happening in Pittsburgh. A man  enters an unprotected synagogue calling for the death of all Jews and murders eleven Jews. Before you know it, Progressive Jews are attacking Donald Trump and aligning themselves with people like Linda Sarsour.
"Eleven members of the Pittsburgh branch of  Bend the Arc: A Jewish Partnership for Justice, published a scathing letter to U.S. President Donald Trump denouncing his embrace of white nationalism and launched a petition with a series of demands following the deadly Saturday shooting at the Tree of Life Synagogue. They wanted to stop the President from visiting the families of all victims, including police officers shot in the line of duty.

The group is supported by the son of George Soros, and Peter Beinart, a prominent left-wing American columnist.  According to its website, Bend the Arc is "a movement of tens of thousands of progressive Jews all across the country. For years, we've worked to build a more just society. Now we're rising up in solidarity with everyone threatened by the Trump agenda to fight for the soul of our nation."
The petition which has over eighteen thousand signatures demands "you and the Republican Party: Fully denounce white nationalism, stop targeting and endangering all minorities, cease your assault on immigrants and refugees, and commit yourself to compassionate, democratic policies that recognize the dignity of all of us."
In that one request, these Jews call all Republicans white nationalists.
While people twist themselves into knots to blame Donald Trump for the rise in Jew hatred in America, the real threat comes from the left. Not the far-left, but mainstream Progressives. From the Democratic Party to which millions of Jews belong. These Jews supported Barack Obama who put Israel under a bus when he refused to veto UN Resolution 2334 that stated Jewish Holy sites no longer belonged to the Jewish state and then gave billions of dollars in small bills to Iran which then shared the money with Hamas and Hezbollah. Do these Jews know anything at all about their beloved female Democrat, Linda Sarsour, who has stated amongst other things that Zionists cannot be feminists?
Linda Sarsour is one of the shining stars of the main stream Democratic Party. Sarsour is one of the architects of the January 21 Women's March, the biggest national demonstration in history, and also helped organize "A Day without a Woman," an action that took place in solidarity with the International Women's Strike. She declared she stood with the left and with Planned Parenthood, which stood with her. Yet Islam does not allow abortions after 20 weeks. This is not a secret.
"Abortion is forbidden under normal circumstances by nearly all the major world religions. Traditionally, abortion was not deemed permissible by Muslim scholars. Shiite scholars considered it forbidden after implantation of the fertilised ovum. However, Sunni scholars have held various opinions on the matter, but all agreed that after 4 months gestation abortion was not permitted. In addition, classical Islamic scholarship had only considered threats to maternal health as a reason for therapeutic abortion. Recently, scholars have begun to consider the effect of severe fetal deformities on the mother, the families and society. This has led some scholars to reconsider the prohibition on abortion in limited circumstances. This article reviews the Islamic basis for the prohibition of abortion and the reasons for its justification. Contemporary rulings from leading Shiite scholars and from the Sunni school of thought are presented and reviewed. The status of abortion in Muslim countries is reviewed, with special emphasis on the therapeutic abortion law passed by the Iranian Parliament in 2003. This law approved therapeutic abortion before 16 weeks of gestation under limited circumstances, including medical conditions related to fetal and maternal health. Recent measures in Iran provide an opportunity for the Muslim scholars in other countries to review their traditional stance on abortion."
Her agenda is not a secret. She speaks about it everywhere.
Sarsour,the "co-chair of the national Women's March and founder of a political activist group called MPower Change, spoke to at least four separate sessions during the conference, with ISNA President Azhar Azeez introducing her as "the most famous, known activist in America today." Her tone often was not aimed at inspiring Muslims to be more politically active, as much as it was to shame them for not doing so. If they aren't sufficiently engaged in advocating for the Palestinian cause, she said, "you as an American Muslim are complicit in the occupation of Palestinians, in the murder of Palestinian protesters. So when we start debating in the Muslim community about Palestine, it tells me a lot about you and about the type of faith that you have in your heart."   Worse still, "if you're on the side of the oppressor, or you're defending the oppressor, or you're actually trying to humanize the oppressor," she said, "then that's a problem sisters and brothers, and we got to be able to say: that is not the position of the Muslim American community."
Trying to humanize the Jews? Is that not an echo of Hitler's calls to dehumanize the Jews? This is mainstream speech. As far as I know no one in the main stream media has called it far left-far anything: unacceptable; racist. It seems to be accepted. Is this not an example of Islamic Jew hatred?
She stands with BDS along with far too many churches which stand with the BDS movement around the world. She echoes the Jew hatred of Jeremy Corbyn the Labour leader (Labour as in the left) in Great Britain.
Do our Progressive Jews realize that she stands with Louis Farrakhan who calls Jews "termites."  And Keith Ellison, who is associated with the Muslim Brotherhood?
Linda Sarsour said she was raising money for a desecrated Jewish cemetery through Muslims Unite To Repair Jewish Cemeteries.
Progressives Jews cheered.
And now she is raising money for Pittsburgh. "Initially it was intended to be a gesture of solidarity," said Linda Sarsour, the co-founder of MPower Change, "We wanted to give more than just 'thoughts and prayers.'"
She has no problem seducing Progressive Jews in America with her interfaith dialogue and charitable fund-raising, while constantly attacking the Jews of Israel. And these Progressive Jews follow like lemmings while turning their backs on Donald Trump, the only President to stand for Israel in modern times. Wow.
Linda Sarsour: dividing  and conquering  Am Yisrael.
From the Ethics of the Fathers: "Rabbi Tarfon used to say, it is not incumbent upon you to complete the task, but you are not exempt from undertaking it.