Let us never forget the description of Otto's involuntary utterance from sheer unadulterated pain; physical, emotional and mental.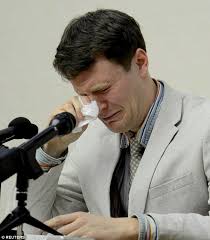 Otto Warmbier was on a tour and did something really juvenile. He took a poster. A poster!  as a souvenir. And for that crime he was sentenced to 15 years of hard labour in North Korea. Why was he in North Korea? Good question. You'll have to ask those who planned the tour.
 "Although travel to North Korea isn't illegal for U.S. citizens, the Department of State strongly recommends against any travel to the East Asian nation. Warmbier, a University of Virginia undergraduate, was taken into custody Jan. 2  (2016) at Pyongyang Sunan International Airport while waiting to board a plane after exploring North Korea as part of a five-day tour with China-based budget tour operator Young Pioneer Tours. He was charged with subversion and committing a "hostile act" against the state for attempting to steal a propaganda poster from Pyongyang's Yanggakdo International Hotel."
In a televised statement in March 2016, Otto apologized and said he was impressed by the country's "fair and square legal procedures" and its "humanitarian treatment of severe criminals like myself."
A tearful Warmbier confessed:
"I never, never should have allowed myself to be lured by the United States administration to commit a crime in this country. "I wish that the United States administration never manipulate people like myself in the future to commit crimes against foreign countries. I entirely beg you, the people and government of the DPRK, for your forgiveness. Please! I made the worst mistake of my life!"
In return for that confession he seems to have been tortured.
"When North Korea gets into a diplomatic dispute with the U.S. government, they like to grab any American they can find and use them as bargaining chips," Phil Robertson, deputy Asia director of Human Rights Watch told TIME magazine.
At the time of Warmbier's detention, the U.S. and the U.N. Security Council were weighing whether to hit North Korea with further economic sanctions in response to recent nuclear testing activities."
Let's put this in perspective.  A regime takes Americans and tortures them when in a spat with America.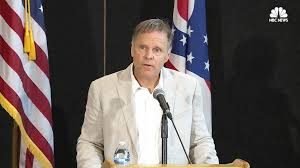 According to Otto's father Fred:
"When Otto was first taken, we were advised by the past administration to take a low profile while they worked to obtain his release. We did so without result.
The Trump administration took a different tack. They got him out."
This desire to be quiet always affects me badly. It reminds me of the Jews during WWII who advised not to rock the boat in America for fear of increasing antisemitism.  Yet being quiet made it possible for the Nazis to murder 6 million Jews.
Word about Auschwitz, the gassing and incinerating of Jews came to Europe and America. Calls from Jews to bomb the railroad leading to the Death Camp and bombing Auschwitz fell on deaf ears. Well, maybe not deaf, but certainly unwilling. There were those righteous people who feared they might kill some Jews. Might kill? Jews were being murdered in fact by Nazis who swore death to all Jews. Blowing up Auschwitz would have been a blessing perhaps preventing the death of hundreds of thousands of Jews and send a message to Adolph.
President Roosevelt, who held back the bombing of Auschwitz, had had no problem diverting manpower to save the artistic and historic monuments in Europe. Nor did he have a problem with Allied ships being diverted to bring thousands of Muslims on a religious pilgrimage to Mecca in 1943. Even General George Patton managed to divert U.S. troops to rescue 150 of the prized Lipizzaner dancing horses in Austria, in April 1945.
Why am I discussing Auschwitz in an article about North Korea and Otto Warmbier? Because there are lessons to be learned.
The first time Otto Warmbier's parents saw their son after he was flown back from North Korea in June, they were confronted with the sound of inhuman howling so terrifying Otto's mom ran off the plane. "We walked over to the plane, the engines are still humming, they had just landed…when we got halfway up the steps we heard this howling, involuntary, inhuman sound," Fred said. "We weren't really certain what it was."
An inhuman sound: what Edward Sapir in Language: An Introduction to the Study of Speech  calls an involuntary utterance, an indication of an overflow of emotion, an instinctive cry that is universal.
Otto came home in a coma.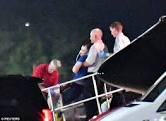 Mr. Warmbier said "Otto had a shaved head. He had a feeding tube coming out of his nose.  … He was blind, he was deaf. As we looked at him and tried to comfort him, it looked like someone had taken a pair of pliers and re-arranged his bottom teeth."
Let us never forget the description of Otto's involuntary utterance from sheer unadulterated pain; physical, emotional and mental.
The DEMOCRATIC Republic of North Korea has denied it cruelly treated or tortured Otto, saying he was dealt with according to domestic law and international standards. Well if this is how North Korea and Kim Jung Un treat  people then perhaps retaliation against North Korea could free millions of people from the horror of the Kim Jung dynasty that now rests in the hands of a man who has brutally executed  340 people since he came to power in 2011. Of those killed, about 140 were senior officers in the country's government, military and ruling Korean Worker's Party. Can you imagine what he has done to millions of others.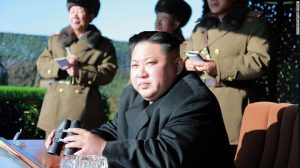 Sometimes evil must be fought by recourse to arms.
"Rabbi Tarfon used to say, it is not incumbent upon you to complete the task, but you are not exempt from undertaking it."