Bernie Farber has most recently been CEO of Mosaic, a Canadian NGO that "promotes pluralism, peace and conflict resolution internationally." At the same time he presents himself as a leader in the Jewish community and has been quoted as an expert on Jews and Israel in the Toronto Star. As of this time, he is not on any Jewish community board.

Recently Mr. Farber shared his views on a report from the CBC regarding the deadly van attack in Toronto.
Mr. Farber tweeted:
@CBCCanada owes Canadians an apology. Suggesting blame without fact, suggesting ME [[Middle Eastern]] terrorism without accuracy, fans flames of hate. This is Breibart/Rebel reporting. Far from what we expect from CBC journos.
His tweet referred to CBC reporter Natasha Fatah's tweet:
#BREAKING Witness to truck ramming into pedestrians tells local Toronto TV station that the driver looked wide-eyed, angry and Middle Eastern.
Natasha Fatah's tweet reported what she had heard from witnesses as did other tweets from other news sources.
Maclean's Andray Domise reported: "About an hour after the incident, news broadcaster CP24 interviewed a witness to the incident, who described the attacker as "a Middle Eastern-ish man." A witness described the attacker "a very angry and scared young guy." Another witness said to CP24: "I truly believe it's a terrorist attack."
I asked Mr Farber how he had inferred from Ms Fatah's tweet that she had connected the attack with terrorism and therefore "fans the flames of hate" given the fact that she did not say or imply in any way, shape or form that it was an act of terrorism.

I asked him if he criticized CP24 for reporting the very same information and for "fanning the flames of hate."

I asked him if the fact that Natasha Fatah is the daughter of Tarek Fatah had anything to do with his response to her reporting.

I explained that I was on a deadline to write my article.
His reply:
Ms. Bederman

I see you are not writing for a specific media outlet. Tx for being in touch.

Best

BMF
Let me share with you some tweets regarding Mr. Farber's attack on Ms. Fatah.
From Tarek Fatah
Hi @BernieFarber, yr hatred of my daughter @NatashaFatah at CBC is understandable. It must upset you to know that some of us can see through your dalliance with Islamists. So instead of attacking the terrorist who killed 10 people, u targeted Natasha with falsehoods.
Replying to @BernieFarber @CBCCanada
She quoted a witness. She didn't say the witness was correct (obviously was not). No one is omniscient. You're making a mountain out of a molehill.
And
Replying to @TarekFatah @BernieFarber @NatashaFatah
She was just conveying what a witness said.
Replying to @TarekFatah @BernieFarber @NatashaFatah
The standard refrain from douchebags on the left is "I am offended, therefore you must apologize!" Natasha is a journalist who passed on a report. That's her job. Bernie is a perpetually offended virtue-signaller, I'll trust Natasha over that any day of the week.
Seriously? Did @BernieFarber blame @NatashaFatah of the CBC? He must be holding a grudge against her dad Tarek Fateh. And @CIJAinfo went along with his character assasination of CBC's best?
This guy @BernieFarber is disgraceful. @NatashaFatah merely quoted an eye witness and true to it the mass murderer turned out to be Middle Eastern. (This tweet was edited for publication.)
Natasha did say that it was witness's claim, didn't she? @BernieFarber does not realize that witness's claim is newsworthy even if tit is false; and important to become part of the chronicles-even if to give an idea that witness can be wrong and quick to jump to conclusion.
I asked the same questions of Ms. Amira Elghawaby, associated with NCCM, the National Council of Canadian Muslims ( formerly the Canadian Council of American-Islamic Relations [CAIR-CAN]),  after she posted this tweet: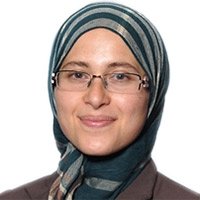 Completely unethical and irresponsible reporting here. @CBCOmbudsman needs to look into this. #cdnmedia
Ms. Elghawaby has not responded.
From the Ethics of the Fathers: "Rabbi Tarfon used to say, it is not incumbent upon you to complete the task, but you are not exempt from undertaking it."