One would have to have been living in a cave since the beginning of time not to know that there is racism against blacks in America.
 "Racism refers to a variety of practices, beliefs, social relations, and phenomena that work to reproduce a racial hierarchy and social structure that yield superiority, power, and privilege for some, and discrimination and oppression for others. It can take several forms, including representational, ideological, discursive, interactional, institutional, structural, and systemic."
But it sits side by side with prejudice which is just as evil.
Here is the definition of prejudice from the Oxford English dictionary a
"preconceived opinion that is not based on reason or actual experience." Quite simply, it is a pre-judgement that one makes of another that is not rooted in their own experience. Some prejudices are positive while others are negative."

recently posted an article titled "Muslims:The New Jews?"
I recently posted an article titled "Muslims:The New Jews?"
I think we need to discuss the possibility that the Jews are the new Blacks.
Yes, this post is long. Why not? The history of hate against the Jews is much longer.
First, take a look at this site to get an overview of comments shared about Jews-without fear of reprisal.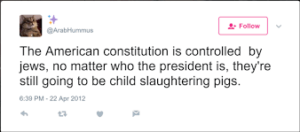 We are aware of racism against black people. We are reminded of it on a regular basis. We have been made aware of prejudice against "the other" which most often has been against non-white people.
But against this backdrop we have allowed the rise of another prejudice-Jew hatred.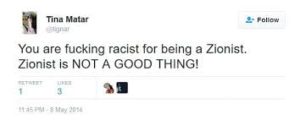 Again.
A mere 70 years following the Holocaust.
After we all said Never Again. It's Again. Better than ever.
#Its1939alloveragain
We have forgotten that innate, systemic, endemic hatred. We have so forgotten it that is has become normalized. We rarely hear from politicians, pundits or professors about this hate. As a matter of fact, this hate is promoted in the media and in politics and in universities all over the world. It is the only hate that is justified.
Amazing isn't it that in a world of 7 billion people, 14 million Jews are the bane of the existence of the world. Again. Still.
Churches around the world accuse the seven million Jews in Israel of apartheid. Comparing the Jewish state to South Africa
Yet, Jews, Christians, Muslims, Druze Mormons, Baha'i, every race, colour, creed, religion and sexual orientation are treated equally under the law in Israel. There is a wall-to keep out suicide bombers who wantonly murder Jews.
Current and former students at Canada's McMaster University have published hundreds of social media posts exalting Adolf Hitler, glorifying terrorism, and calling for "death to" America, white people, Jews, and Israel.
Substitute black for Jew and Zionist and what do you think would happen?
Seif Youssef took a leadership role in the 2015 Boycott Divestment, Sanctions (BDS)campaign at McMaster University in Hamilton, Ontario.
On May 2, 2015, Youssef retweeted a tweet featuring a large pig lying in the mud that read: "and over here we have the most common breed of the Israeli Zionist in his natural habitat."
On October 7, 2013, Youssef tweeted: "When the customer tells me he used to work in Israel… #NoGasForYou #ItsPalestineYaHabiby."
How about this?
"How long does it take a zionist woman to take out the trash?…………Nine months." — Nadera Masad

"I honestly wish I was born at the time of the second world war just to see the genius, Hitler, at work." — Rawan Qaddoura

"falastine ibladna wel ya7ood eklabna [palestine is our land and the jews are our dogs]." — Walid Abdulaziz

Esra Bengizi, who served as the humanities representative of the McMaster Student Assembly has tweeted extensively about her admiration for Hitler "as an individual."

"You'd be stupid if you think Hitler wasn't a great leader," she tweeted in May 2014, writing later that year, "What Hitler did was wrong but I admire him as an individual he was extraordinarily intelligent, persuasive, deceptive & driven."

Then she added "Where is hitler when u need one?' I literally ask this every day."

"I'm actually going to the rule the world and get rid of anyone who doesn't have basic common sense or if you're yahoodi [Jewish]" — Esra Bengizi
These are people who have no qualms about sharing Jew hatred and why would they-the government says nothing and neither do the universities and most of the media outlets. Or if there were a word, it was too quiet to be heard.
And just to prove that Jew hatred is accepted take a look at cards sold at Target. TARGET!
Cards Against Humanity
Question cards:

— Can't you see? The Jews are behind everything—the banks, the media, even ___________!
— Coming to Broadway next season: " __________ on the Roof."
— According to Freud, all children progress through three stages of development: the oral stage, the anal stage, and the ___________ stage."

Answer cards:
— A big brain full of facts and sadness.
— Pork products.
— A lifetime of internalized guilt.
— Whoopi Goldberg
— Chopping off a bit of the penis.
— A little bit of schmutz right there.
— Some kind of concentrated encampment for people.
— Demolishing that ass like a Palestinian village.
Here is a list of churches attacking Israel the only democracy in the Middle East and Most of Africa. Attacking Israel like this IS Jew hatred.
The Anglican Church in Britain with its Raising Voices: Holy Sites the Pentecostal Appeal regarding social justice promotes the view that Israel is an apartheid state and is eradicating the history of the Arabs
Members of the Mennonite Church USA voted overwhelmingly to condemn Israel's military occupation and to support divestment from companies that profit from violations of Palestinian rights.
The Presbyterian Church USA passed a series of resolutions at its general assembly in support of the Boycott, Divestment and Sanctions (BDS) movement against Israel, while calling on Israel to leave the disputed territories. The report says that Israel's "policy trajectory of continued settlements and brutal occupation" is "deeply troubling."
The Church of Scotland has undertaken a review of its investment strategy to ensure it's not inadvertently encouraging or funding the continuation of the Israeli Occupation.
At The United Church of Canada "The council, which sets policy for the church, passed a resolution in favour of "initiating and developing a program of education and advocacy in co-operation with our partners, related to divestment from and economic sanctions against all corporations and institutions complicit in and benefiting from the illegal occupation. This would include education about tourism, which bolsters the oppression of Palestinians."
The Latin Patriarchate of Jerusalem released a statement signed by the heads of all 13 Christian communities in Jerusalem, condemning the recent escalation of violence at the Temple Mount  where Arab Muslims from inside their "Holy Site" ambushed and murdered two Israeli Border police.
The United Church of Christ and the United Methodist Church (UMC), with 7.5 million followers,  and several Quaker bodies have voted to divest from Israeli and international companies targeted by the BDS movement.
The World Communion of Reformed Churches, with a membership of 80 million Christians worldwide called for solidarity with the Palestinian struggle and rejected any use of the Bible to legitimize injustice.
The World Communion of Reformed Churches, with a membership of 80 million Christians worldwide called for solidarity with the Palestinian struggle and rejected any use of the Bible to legitimize injustice.
Christians and Catholics, 70 years after displaying an ignorantia affecta that led to the murder of 6 million Jews, here they are again attacking the Jews.This time they justify it by saying it is Israel, not the Jews.
The student councils of five South African universities decided to join an academic boycott of what they refer to as "Apartheid Israel," and said they will be pressuring their institutions to implement the boycott.
The leadership of Britain's National Union of Students voted to boycott Israel and affiliate itself with the BDS (boycott, divestment and sanctions) movement. The motion, which passed 19-14 in the union's National Executive Council, was not new; it affirmed a similar vote taken during the Gaza conflict.
Black Lives Matter (BLM) is against Jews. Remember that Jews fought  and died for the Civil Rights Movement.
Liberally embraced Linda Sarsour tweets "Nothing is creepier than Zionism" and states that Zionists can't be feminists.
Organizers of a gay pride parade in Chicago ejected three people carrying pride flags emblazoned with a Jewish Star of David. Subsequent bizarre statements attempting to rationalize their action, claiming that Zionism is "an inherently white supremacist ideology" only exacerbated the sense that the organizers were deaf to the concerns of the Jewish community and engaged in anti-Semitism — denying Jews the same rights that were extended to other participants, basically to celebrate their identities as Jewish queer women.
Then there is Louis Farrakhan, beloved by members of the Congressional Black Caucus and President Obama.
"the powerful Jews are my enemy."

"White folks are going down. And Satan is going down. And Farrakhan, by God's grace, has pulled the cover off of that Satanic Jew and I'm here to say your time is up, your world is through."
How about the calls from Imams for death to the Jews? Or hateful statements made about us? Where are the screams from our leaders? Sheikh Abdulqani Mursal,  explains that the fate of the Jews is destined to be killed by the Muslims..
Sheikh Muhammad bin Musa Al Nasr (محمد بن موسى آل نصر) a Jordanian cleric, called the Jews the "most evil of mankind" and "human demons" and asked  What is the disease of the Jews?
At a rally in Orlando, Florida shortly after U.S. President Donald Trump's historic declaration recognizing Jerusalem as the capital of Israel, an activist at the Council on American-Islamic Relations (CAIR)-sponsored event ranted, "[Jews] are the crappiest piece of shit on this planet."
The activist was Said Lufti, uncle of Rasha Mubarak, Orlando Regional Coordinator for CAIR-Florida, and one the protesters in attendance, many of whom were wearing keffiyehs [checkered men's headscarves] and waving Palestinian flags.
Lufti continued:
"You [Jews] are baby-killers. You Jesus-killer…You Christians, walking behind Jesus-killers… Jesus's blood [is] on your hands… You crucified Jesus!… Record me! You are Jesus-killers!… Jesus' blood on this piece of crap Jew [the man filming the clip] hands. And [addressing a non-Jew behind the camera] you're walking with him? You are a Christian?… Your people [the Jews] killing everything that walks on this planet…"
You can watch the entire video at the beginning of this piece.
I end this piece with my favourite post; a tweet from a student at McMaster University on Canada.
"The only good Zionist is a dead Zionist."
Did you hear the response from our elites? No? Oh, that's because not a word was said. It's only the Jews after all.
The normalization of hatred against one people. Like the blacks before the Civil Rights Movement. Before the collective conscious of America stood up to racism.
Where is our collective disgust?
From the Ethics of the Fathers: "Rabbi Tarfon used to say, it is not incumbent upon you to complete the task, but you are not exempt from undertaking it."